Catching up with the last week's news:
Roll out of the major upgrade to Android Market for phones has began. User interface has been redesigned from scratch to improve discoverability of apps and games.  If you are in the US, this version adds ability to rent movies and buy books from Android Market. Android 2.2+  phone is required for the update. You can also install the update manually by following this link.
Google+ client for Android has been updated with few nice new features:
Customize the main stream view to show streams from individual circles
Fixed some issues encountered by users with the Swype keyboard
Set permissions for who can start a huddle with you (Anyone, Your Circles, Extended Circles)
If someone you've never huddled with before invites you to a group huddle, you can now dismiss the invitation
New UI allows adding multiple people or entire circles to a huddle
Set photo as wallpaper
Performance improvements and bug fixes throughout the app
Google Maps added live traffic coverage for 13 European countries: Austria, Belgium, Czech Republic, Denmark, Germany, Ireland, Israel, Luxembourg, Netherlands, Poland, Slovakia, Spain and Switzerland. This is a great news, since Google Maps is one of the best Android apps and its turn-by-turn navigation puts regular GPS devices and most other navigation apps to shame. The new traffic information is available in Google Maps for Android, iOS, and mobile browsers.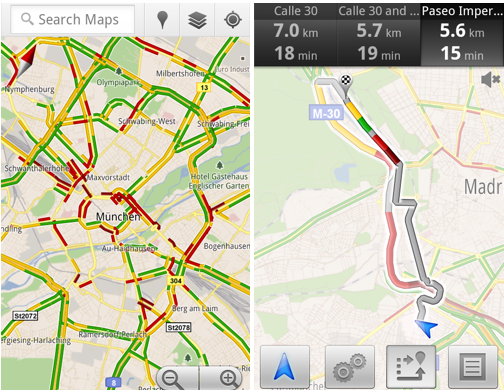 During Google's Q2 earnings call, Larry Page mentioned that 550,000 devices running Android are activated each day. That's up from 500,00 daily activations just 3 weeks ago.
VMWare View client for Honeycomb has been released for a free tech preview. The app allows to remotely access your computer using an Android tablet running Honeycomb.
Google Shopper app for Android has been updated. As a part of the pilot program, residents of Portland, Oregon, San Francisco Bay Area or New York can take advantage of the Google Offers, with other cities to follow. This update is available for Android 2.1+ devices.