If your Android phone seems to be running slower than it used to, check how much available internal storage it has left. If it has less than 30% left, freeing up some space will speed up the phone. That is because flash memory which is used for internal storage gets significantly slower as it gets full.
How slow? Take a look at the chart below from Google I/O talk by Brad Fitzpatrick, Android developer (and creator of LiveJournal and dev tools such as memcached). The chart shows how long it takes to write 512 bytes to the phone internal storage (NAND flash) on two different Nexus One phones. As you can see, write times slow down significantly as the internal phone storage gets full. Another point is that performance between different devices varies a lot, but there's little you can do about that.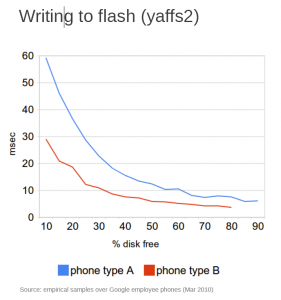 While performance of the disk write operations does not directly translate to overall performance of the phone, it has a significant influence on the phone performance. Fitzpatrick mentioned that when some Android users notice phone performance improvement after factory reset, that is due to the fact that internal phone storage has been freed up by the reset.
You can check how much space you have left on internal phone storage by going to Settings->SD card & phone storage. This, however, won't tell you the total space which you can either look up on wikipedia's page for your phone or by using any of the system utilities, such as Android System Info (download link). If your phone's available space is less than 30%, you should consider freeing more space up by following these simple steps:
Remove unused apps. Go to Settings -> Applications -> Manage Applications, click Menu, Sort by Size and remove all unused apps with greater attention paid to the larger apps at the top of the list.
Move apps that officially support apps2sd to SD card. Use "App 2 SD" application (download link) to find out which of your installed apps can be moved.
Move remaning apps to SD card by using an easy hack described in this article: How to move all Android apps to SD card.
Spending a little time on these maintenance steps will pay off by your zippier Android phone.
Related posts: