Why 24? That's how many apps I have on my main Home screen. But my homescreen fits only 16 apps. I use ADW.Launcher which allows customizing number of shortcuts per screen (see FAQ below for more details on ADW.Launcher).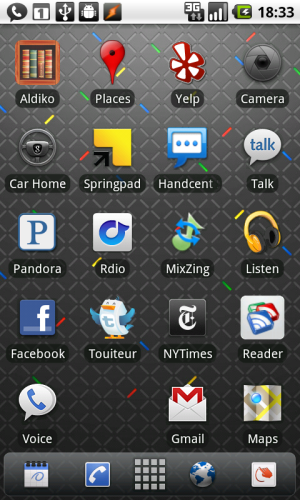 My 24 most used Android apps are:

Gesture Search: allows to search contacts and apps by drawing first few letters of their name on the screen
Browser: stock Android browser
Phone: sometimes I still make phone calls
Calendar: stock Calendar app supporting multiple accounts
Maps: find where you are, driving, walking, transit and cycling directions, free turn-by-turn navigation. An amazing app that gets even better with its Labs features enabled
Gmail: default Gmail client supporting multiple gmail and Google Apps accounts
Google Voice: one of the "killer" Android apps and is beautifully integrated into the Android OS. Provides visual voicemail, reasonably good voicemail transcription and cheap international calling (rates)
Reader: bookmark to reader.google.com. While many native rss readers exist, mobile version of Google Reader is so well done, that it is my first choice for reading rss feeds
NY Times: free news from the New York Times
Touiteur Premium: twitter client. I don't like official Twitter client for a number of reasons. Touiteur has free and premium (paid) versions. Premium version costs €1.99 and includes widgets and "full conversation mode" feature, which alone is worth every 

penny

centime

eurocent.
Facebook: official Facebook client
Listen: podcasting app. Nothing too exciting about this app and it doesn't support video podcasts (for that I use Podkast), but it works. Listen supports both download and 3G/Wi-Fi streaming of podcasts
MixZing: music player. A replacement of primitive stock music player.
Rdio: streaming music service. Think Netflix, but for music. The app is free, but the service costs $10 per month. Rdio has an ability to download music to your phone's SD card to save bandwidth (the downloaded files are encrypted and are not available outside Rdio app).  Their music collection is quite extensive
Pandora: my favorite music discovery service
Google Talk: stock Google Talk client
Handcent SMS: great replacement for stock messaging app
Springpad: good note keeping app
Car Home: switches phone into car mode with easy access to turn-by-turn navigation, voice search, and voice dialing
Camera: stock camera and video recording app
Yelp: find reviews of restaurants, businesses
Places: similar to Yelp, made by Google and is now part of Android Google Maps application
Aldiko: e-book reader
All apps in this list are free, with the exception of Touiteur Premium (€1.99).
FAQ
Q: Why only 23, when 24 apps were promised?

One shortcut on the Home screen is reserved for the direct dialing. Hint: think wife's/husband's/bf's/gf's cellphone number. Hint #2: The proximity to the screen's lower edge is important, as that's where the most frequently used shortcuts should be placed. To add: long press on Home screen > Shortcuts > Direct dial.

Q: Are these the best Android apps?

Not quite. This is the list of my most frequently used apps, which overlaps with the list of best Androids apps, but is not the same.

Q: Where are Last.fm, Google Earth and TuneWiki?

There are many wonderful Android apps out there, but there's room for only 24 shortcuts on my main Home screen. Apps in this list are my current favorites and they will change over time. I plan to update this list periodically.

Q:  What is ADW.Launcher?

When Home button is tapped on your Android phone, the Launcher application is … launched. Basically, Launcher is an app that

launches

starts all other applications and as most things Android it can be customized, i.e. replaced. ADW.Launcher is a great 3rd party launcher app that replaces stock Launcher. It gives you complete control of your Home screen and supports landscape orientation of Home screens, customization of number of shortcuts per screen, total number of Home screens (max: 7), Home button behavior, themes and much more.

I set ADW.Launcher to 5 rows of 4 shortcuts on each of 7 Home screens, in addition to 4 app shortcuts in the dock at the lower edge of the screen. This layout looks great in 480×800 resolution in both portrait and landscape modes.
ADW.Launcher is free and open source. Another quality 3rd party launcher providing similar functionality is LauncherPro, but it is not open source and my rule is "when in doubt, choose open source".