One of the best features of Android is customization, which among many things allows to control how the home screen behaves and looks using widgets, shortcuts and 3rd party launchers such as ADW.Launcher and LauncherPro. Let's take a closer look at home screen shortcuts, which are accessible via long press on the home screen and selecting Shortcuts.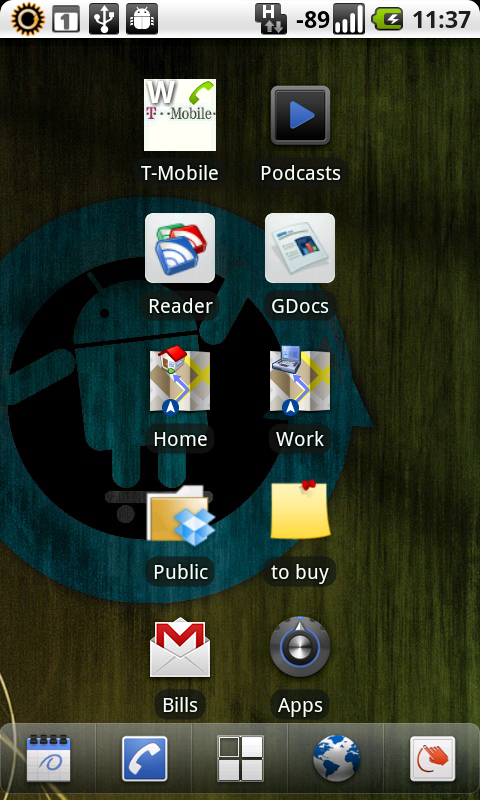 The shortcuts shown in the home screen above are:
Direct phone number dial (Shortcuts -> Direct dial). While contacts usually have more than one number (e.g. home, work, mobile), direct dial shortcut calls selected number with a single tap. The shortcut combines contact's icon with an overlay of number type (in this case W for Work).
Music playlist called Podcasts (Shortcuts -> Music playlist)
Bookmarks to reader.google.com and docs.google.com (Shortcuts -> Bookmark)
Navigation to Home and Work (Shortcuts -> Directions & Navigation)
Dropbox folder called "Public" (Shortcuts -> Dropbox Folder)
Springpad note called "to buy" (Shortcuts -> Springpad)
Gmail folder labeled Bills (Shortcuts -> Gmail label)
Manage Applications menu of the Settings (Shortcuts -> Settings)
Shortcuts are convenient  for speeding up frequent actions. For example, the result of a single tap on Home navigation icon would normally need 4 taps (Car Home -> Navigate -> Contacts -> Home). For bookmarks: one tap instead of 4 (Browser -> Menu -> Bookmarks -> Reader) and so on.
In addition to shortcuts available out of the box (e.g. Bookmark, Navigation, Settings), downloaded apps such as Springpad, Evernote, and Dropbox also support shortcuts. As a result,  the list of available shortcuts varies from one phone to another, but in my case the full list is: Applications, Bookmark, Contact, CyanogenMod settings, Direct dial, Direct message, Directions & Navigation, Dropbox Folder, Email, Foursquare Places, Gmail label, K-9 Accounts, Latitude, Music playlist, Note shortcut (Evernote), QuickPress, Settings, Springpad, Task (Tasker), Toggle Google Voice, WiFi Analyzer.