Over the last two years Google has added capability to edit Google documents and spreadsheets using Android and iOS mobile browsers. Today Google took the next step and released a native Google Docs app for Android 2.1+ devices.
The native app makes it very easy to access documents, spreadsheets and presentations from different Google and Google Apps accounts. It has few features that are unavailable with the mobile browser version such as ability to share items with contacts and rename items. My favorite new feature is that you can now take a photo of a text and convert it to a Google document using OCR (optical character recognition).
Now the bad news: editors for both documents and spreadsheets are not rich native editors one might expect, but mobile editors packaged in a WebView. As a result, editing experience is exactly the same as in the mobile version, which means that many basic editing features such as formatting are not available. Let's hope that this is just the first version and rich editing capabilities will added down the road.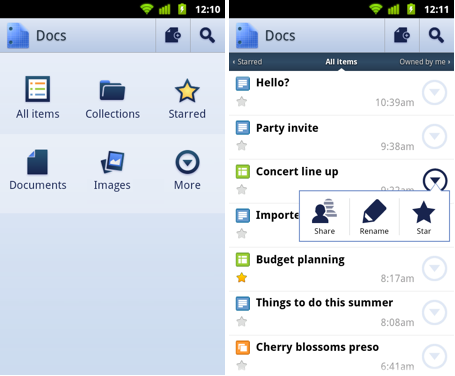 Source: Google Mobile blog.
Download link: Android Market.