The wait is over and Galaxy Nexus is finally available in the US from Verizon Wireless. Galaxy Nexus can be purchased online or at Verizon Wireless, Best Buy, Costco and Radio Shack stores. Verizon's price is $299 with a contract and $649 without a contract, but before rushing to the store, check the online deals such as $155/$175 (new contract/upgrade) at LetsTalk or $150/$250 at Amazon Wireless.
Galaxy Nexus is a successor to Nexus S and is the first phone to ship with fully redesigned Android 4.0 (Ice Cream Sandwich). This is also the first Nexus phone available on Verizon's network, which is considered to have the best coverage in the US. The specs are impressive: 4.65″ Super AMOLED HD display with 1280 x 720 resolution, 9.5 mm thin and weighing only 150g (5.3 oz), 5MP main camera, 1.3MP front camera, 1080p video recording, NFC, and 4G LTE network support. But the main selling point of Galaxy Nexus over other Android phones such as Galaxy S II is the pure Google experience 1), meaning stock Android, updates from Google and absence of carrier's bloatware.
I'm a big fan of Nexus phones and I think they provide the best Android experience for reasons described in these brief reviews of Nexus S and Nexus One.  My only concern about Galaxy Nexus is the screen size, which maybe too big for some users. I used to think that 3.7″ of Nexus One was the optimal display size, however after using Nexus S I now prefer 4″ display. But a jump to 4.65″ may be a bit too much, so if you plan to buy it online, I recommend taking some time to play with the phone in the store first.
For more information about the phone, see the full list of features and specs and check out Joshua Topolsky's review and Jason Kincaid's comparison of Galaxy Nexus with iPhone 4S.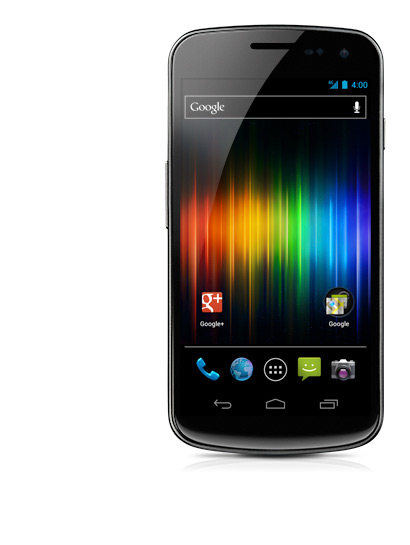 1) Pure Google experience is slightly tainted by the absence of  Google Wallet, but at this point only Nexus S from Sprint supports it.
P.S. Due to various offline commitments this blog went on a 2-month break. What a great occasion to resume our regular programming.